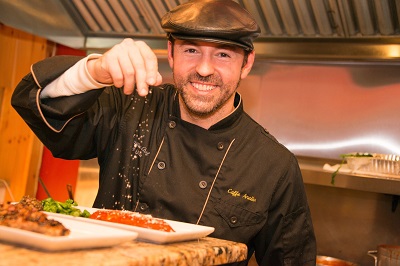 John Vitale, executive chef of the family owned Caffe Anello in Westwood, New Jersey believes that all great food begins with great ingredients and lots of love. John was raised New Jersey in an extended Italian family. "From Scratch" was a given in his home. The family cooked, baked, gardened, canned foods & made wine together. John loved the kitchen & was encouraged to try his hand at food preparation as a young boy. His inquisitive nature led him to learn about cooking methods & seasoning at a very early age.
In college, John worked as a grill chef and created new dishes & new taste experiences for his fellow students. He worked at restaurants to earn pocket money and observed food preparation and service filing away the information for the day he would own his own.
John traveled to Tuscany on his honeymoon. The food & coffee, so delicious and so simply prepared, was inspiring. They returned to New Jersey determined to bring the art of Tuscan cooking home. In 2012, their perseverance led to the opening of Sogno Coffeehouse. The name means "dream" and it was the beginning of fulfilling the dreams of the young couple. The coffeehouse features premium imported coffee that is roasted on site by John. The highlight of the food menu is the crepe, prepared to order with freshest ingredients available.
The dream continued with the opening of Caffe Anello, a Tuscan bistro, in December of 2013. John serves as executive chef in this intimate Tuscan Restaurant. Once again, the mainstays are fresh local ingredients and lots of love. The mozzarella and fresh pasta are prepared daily on site. Caffe Anello features an open kitchen allowing dinner guests to watch John and his staff prepare their food. In less than a year, the tiny restaurant has built a sterling reputation with a 5 Star rating on Yelp from its diner guests and a 3-Star Excellence in Italian Cuisine rating from the Bergen Record. The average wait for reservations is two weeks.
09/25/2019 11:30 AM
Room: Pasta Demo Area, Show Floor