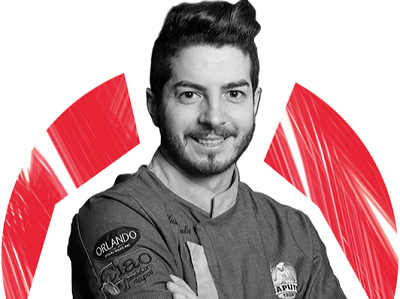 I grew up in the small town of Lioni in Irpinia, in the province of Avellino about an hour from Naples. Mine was not a family of pizza makers. I was brought up with good food that came from the green hills from where I was born, and from my family's generation long production of raw materials.
From our wheat to our flour, bread was baked twice a week and on Sundays fresh pasta. Hence began my white world of flour, as I started to make my pizzas before the bread was baked and I haven't stopped yet.
I started to pursue this path in local pizzerias. Still unsure that this was my passion, I met Saverio Ciampi who introduced me to the Associazione Pizzaiuoli Napoletani under their President Sergio Miccu'. At 21 I took over my friend's pizzeria. In September 2012, I moved to Dallas, where I initially had to stay only three months which became two years. March 2013, I became the World Champion at the International Pizza Expo in Las Vegas for the "Italian Division"; a dream come true. With my new title, in April 2013 I went to Parma for the World Championship of Pizza where I won 2nd place in the category "Pizza Napoletana DOC". In May 2014, I moved to Paris but after four months I returned to establish my collaboration with the Orlando Food Sales and Molino Caputo, and CIAO tomatoes.
09/26/2019 12:30 PM
Room: Pasta Demo Area, Show Floor